This morning we continue our journey into this year, focusing on making "Intentional Progress."  I shared six steps to intentional progress with you, and I will continue to walk through them over the next few weeks.  As a reminder, here are the six steps.
Here are the steps again:
1. Pray/Discern
2. Plan/Prepare
3. Wait/Discern God's Timing
4. Execute/Measure Progress
5. Wait/Faith & Patience
6. Receive When Harvest Time Comes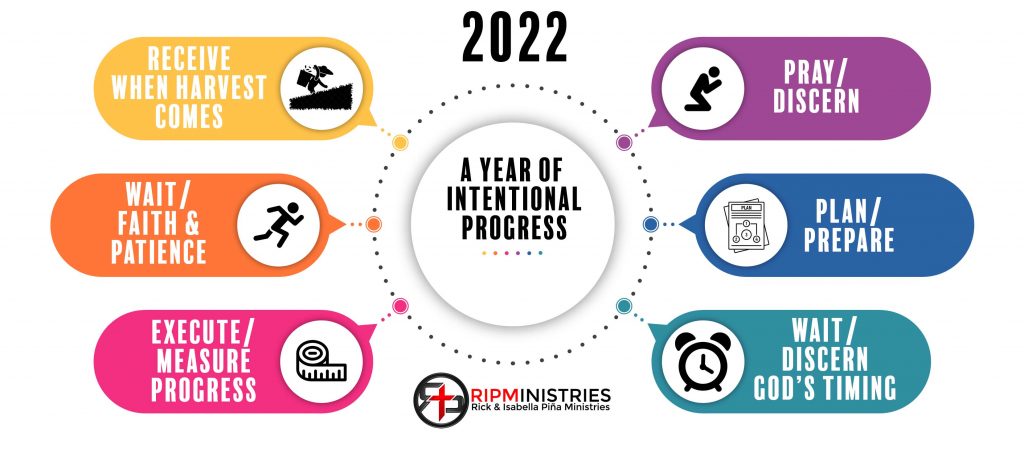 Over a week ago, I introduced you to what I consider to be the actual "Lord's prayer." It is a prayer Jesus prayed in John 17. We have almost studied our way through the entire chapter. Today we will look at verses 23 and 24.
Jesus prayed, "I will be in them, and you will be in me. So they will be completely one. Then the world will know that you sent me and that you loved them just as you loved me. Father, I want these people you have given me to be with me in every place I am. I want them to see my glory—the glory you gave me because you loved me before the world was made."
So what does this mean for you today? A few things.
1. God loves you just as much as He loved His own Son.
While praying to the Father Jesus said, "The world will know that you sent me and that you loved them just as you loved me."
The New Living Translation reads, "May they experience such perfect unity that the world will know that you sent me and that you love them as much as you love me."
The New Century Version reads, "They will be completely one. Then the world will know that you sent me and that you loved them just as much as you loved me."
The Passion Translation reads, "You live fully in me and now I live fully in them so that they will experience perfect unity, and the world will be convinced that you have sent me, for they will see that you love each one of them with the same passionate love that you have for me."
— There is no question that our Heavenly Father loved Jesus with an immeasurable love. Most Christians don't have a hard time understanding that. But the text we just read tells us that the Father loves us in the very same way that He loved His own Son.
— I am convinced that most believers grossly underestimate the love God has for them, and this is bad becuase believing and receiving the love of God is what will change you from the inside out.
— In Jesus' words, we see that the Father loves us JUST AS MUCH as He loved Jesus Himself. You are not second-rate or second-fiddle in God's eyes. You are His child, and He loves you just as much as He loved Jesus. Not because you are perfect, not because you always do what He says, but only because of His grace.
— When you accept the fact that God loves you with a passionate, unconditional, and eternal love, in the same way, He loved His own Son, it will change your perspective of God, yourself, and your future.
— It's hard to live the life of faith if you don't believe and receive the love of God. Paul taught us that "faith works by love" (Gal 5:6). When I was a young Christian, I thought Paul meant that my faith would be strong when my love walk was strong. So I tried to walk in love with everyone because I did not want to stifle my faith. But if you read the entire letter from Paul to the believers in Galatia, the Apostle is focusing on God's grace and NOT our performance. So "faith works by love" cannot mean that my faith will work when my love for God is perfect. It means that my faith will be strong when I realize that God's love for me is perfect. Faith works by love because faith only truly works when you are convinced that God loves you and that He is more committed to you than you are to Him!
Read these two scriptures and give them some thought:
(2 Tim 2:13 AMP)
If we are faithless [do not believe and are untrue to Him], He remains true (faithful to His Word and His righteous character), for He cannot deny Himself.
(Heb 8:12 KJV)
For I will be merciful to their unrighteousness, and their sins and their iniquities will I remember no more.
If you ever truly receive the love of God in your heart, it will position you to believe what God believes about you and that it is the only way you will ever become the man/woman you are destined to be!
— What changed my life was not me, trying to love God. I had been trying that since I was a kid. That is what religion taught me, and I tried my best but kept failing. What changed my life forever was the day I fully embraced the fact that God loves me! I pray you embrace this reality as well. God loves you, and there is nothing you can do about it!
2. The Father loved you before the world began.
While praying to the Father, Jesus said, "You loved me before the world was made."
— We just learned that the Father loves you just as much as He loved Jesus, with the same love and in the same way. Well, if He loved Jesus before the world was made, then He loved you before the world was made as well.
— Before you were ever even a thought in your parent's minds, the Father loved you enough to think about you, plan for your arrival, fashion your purpose, prepare all the gifts He knew you would need in order to maximize that purpose, and He even went to the extent of setting up key divine appointments for you (along the way) that would help you become the person He destined you to be. God did all of this because He loves you, and He did it by grace.
— You have a predestined purpose and a preordained assignment. Therefore, your purpose is not something you can decide. God decided for you before the world began. Purpose is something you must discover. When you discover what God sent you to this planet to do, and you start doing it, you will get a level of satisfaction and fulfillment that you cannot get any other way. Now, it still may be hard. You will still have to put in the work. You will still have to rely on God's grace. You will still face opposition. But when you know you are doing what God called you to do, you know you have the grace to do it, and you know you are loved by God every step of the way, you will be amazed at what you can overcome. Actually, at that point, it won't be you doing it. It will be the Father, living through you, to accomplish His Kingdom plans and purposes on this planet!
3. The Father wants your life to bring HIM GLORY!
— Jesus prayed for the people who were following Him everywhere He went. He wanted the people who were observing His life to know that the Father would be glorified by them seeing it. Jesus did all He did to bring glory to the Father. Jesus then prayed for us to live with the same mentality. He wanted the Father to be glorified through us, just as He was through Jesus.
— God gets glory when you are noticed, acknowledged, recognized, and rewarded for doing what you are graced to do on the earth. Earlier Jesus prayed, "Glorify me, that I may glorify thee." There is nothing wrong with that type of prayer. The Father wants you to prosper. He wants your projects to succeed. He wants your name to be great. He wants your reputation to be stellar. Why? Because He is then able to be glorified through you.
— God gets NO glory out of the life of a person who claims to be His child but who miserably fails at everything they put their hands to do. But when you seek God, when you do things the way He wants you to do them (walking in integrity with tireless energy), everything you put your hands to do will prosper (see Joshua 1:8 & Psalm 1), and the Father will be glorified through your life and living. This is what He wants.
— You were placed on this planet to bring glory to God. When you understand this, and you are quick to bring glory to God's name, God will favor and exalt you, giving you a position of increased influence, so He can get MORE GLORY from your life. When you do get exalted, if you are quick to GIVE GOD THE GLORY, He will increase and exalt you again, so He can have a greater influence on this planet. And this process will continue for the rest of your life, just as long as you continually bring glory to God's name. If you live to glorify God, there is no limit to what God can and will do through you.
I will close with Proverbs 4:12 from The Passion Translation. The Bible says, "Your progress will have no limits when you come along with me, and you will never stumble as you walk along the way."
Declaration of Faith:
Father, I thank You for teaching me more and more about Your grace and love. The more I learn about Your love towards me, the more confidence I build up towards You. There was a time when I was afraid of You, but that time has come and gone. I reverence You, but I am not afraid of You. I am not afraid because I know You love me. You love me JUST AS MUCH as You loved Jesus. You loved me before the world began. You made plans for me before my mother met my father. You set up divine appointments for me before I ever took a step on this planet. When I think about the awesomeness of Your love towards me, I can't help but want to glorify You on the earth.
I meditate and medicate on Your love and Your Word day and night. I let Your Word be the ruler by which I judge my decisions. I let Your Spirit lead, guide, and direct me every day. I am determined to live the life You destined me to live. Therefore, I have no problem asking You to bless the work of my hands. I declare that everything I put my hands to do prospers. I am blessed in my going, coming, and doing—your blessing in on me to succeed in every area of my life.
Like Jesus, I have no problem asking for You to make my success public. As people see me, and as they recognize and reward my success, they will see You, and You will be glorified because I am will make it known that Jesus is my Lord and You are the source of everything in my life. I am not ashamed of acknowledging that my success comes NOT by my power but by Your grace! Which is why I know GREATER IS COMING FOR ME! I declare this by faith. In Jesus' name. Amen.
This is Today's Word! Apply it and Prosper.