This morning we continue our journey into this year, focusing on making "Intentional Progress."  I shared six steps to intentional progress with you, and I will continue to walk through them over the next few months.  Here are the six steps.
Here are the steps again:
1. Pray/Discern
2. Plan/Prepare
3. Wait/Discern God's Timing
4. Execute/Measure Progress
5. Wait/Faith & Patience
6. Receive When Harvest Time Comes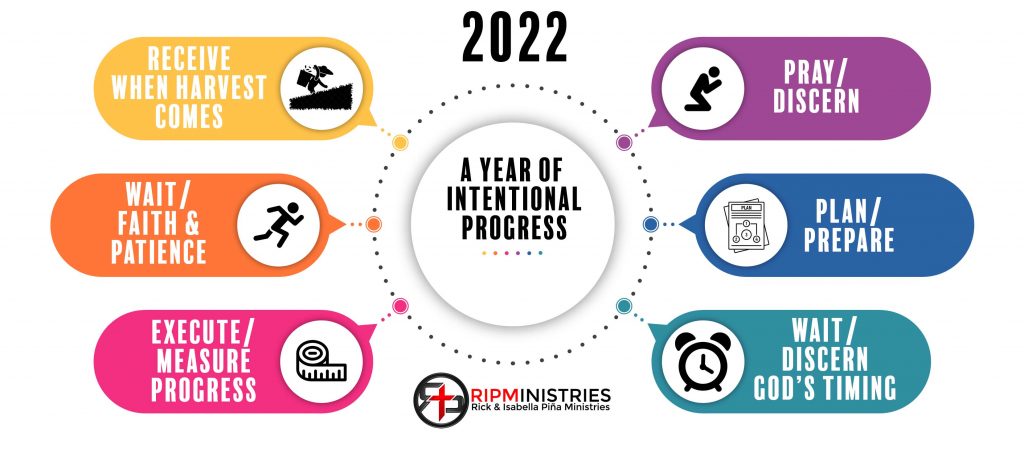 In this series, we have sought to glean life lessons from Jesus. We looked at John 5, 6, 8, 12, and 14-18. We are now in chapter 19. Yesterday we looked at verses 10-13. We are now at the part of Jesus' story that He is about to be nailed to the cross. Before we go there, I will share a message with you that speaks to the prophecies Jesus fulfilled while He was on the planet.
I have been telling you that God is the one moving pieces around on the chessboard. Today I will drive home that message even more. Jesus' life was so orchestrated that I can show you a multitude of scriptures that prophesied what Jesus was going to do and what was going to happen to Him. I will share a few of the scriptures with you today.
Let's start with a few prophecies about Jesus' arrival:
(Micah 5:2 KJV)
But thou, Bethlehem Ephratah, though thou be little among the thousands of Judah, yet out of thee shall he come forth unto me that is to be ruler in Israel; whose goings forth have been from of old, from everlasting.
(Hosea 11:1 KJV)
When Israel was a child, then I loved him, and called my son out of Egypt.
(Isa 9:1 NIV)
Nevertheless, there will be no more gloom for those who were in distress. In the past he humbled the land of Zebulun and the land of Naphtali, but in the future he will honor Galilee of the Gentiles, by the way of the sea, along the Jordan.
Some might say that the Bible contradicts itself. One Prophet said Jesus would come from Bethlehem, another said Egypt and yet another mentioned the land of Zebulun and Naphtali. However, when you look deeper, you will see that every scripture is true and strengthens each other.
The fulfillment of these prophecies:
Micah 5:2 fulfilled:
(Mat 2:1 KJV)
Now when Jesus was born in Bethlehem of Judaea in the days of Herod the king, behold, there came wise men from the east to Jerusalem.
Hosea 11:1 fulfilled:
(Mat 2:13 KJV) And when they were departed, behold, the angel of the Lord appeareth to Joseph in a dream, saying, Arise, and take the young child and his mother, and flee into Egypt, and be thou there until I bring thee word: for Herod will seek the young child to destroy him.
— King Herod sent a group of wise men to find Jesus. He told the wise men that he wanted to worship baby Jesus, which was obviously a lie.
— As the wise men were on their journey, the Lord spoke to them in a dream. He exposed Herod's plans and told them NOT to return by way of Herod. So after they found baby Jesus, they departed into their own country another way.
(Mat 2:19 KJV)
But when Herod was dead, behold, an angel of the Lord appeareth in a dream to Joseph in Egypt, saying, Arise, and take the young child and his mother, and go into the land of Israel: for they are dead which sought the young child's life.
(Mat 2:23 KJV)
And he came and dwelt in a city called Nazareth: that it might be fulfilled which was spoken by the prophets; He shall be called a Nazarene.
— He was born in Bethlehem, and after fulfilling that prophecy, He moved into Egypt, and after fulfilling that prophecy, He moved to Nazareth.
— That title "Nazarene" will follow Him for the rest of His life, but He did not spend the rest of His life in Nazareth. Jesus had many more prophecies to fulfill, including Isaiah 9:1.
Isa 9:1 fulfilled:
To find out where the land of Zebulun and Naphtali was, you would have to back to Joshua and see when the land was being distributed amongst the twelve tribes. Zebulun and Naphtali were to inherit the "coastal area." This is the area around the Sea of Galilea. Nazareth was away from the shore. This is one reason why people said nothing good could come from Nazareth. It was not close to water.
(Mat 4:12 KJV)
Now when Jesus had heard that John was cast into prison, he departed into Galilee; And leaving Nazareth, he came and dwelt in Capernaum, which is upon the sea coast, in the borders of Zabulon and Nephthali.
— Jesus set up His ministry headquarters in Capernaum. Not because He got a good deal on rent. Not becuase it was strategically located for ministry. But becuase He was SUPPOSED TO be there. It was destined from the foundations of the world.
Jesus was born in Bethlehem, he went to Egypt, came back and was raised in Nazareth, and then did ministry out of Capernaum, all becuase it was written. This was all documented before Jesus was ever born.
Not only that, but since Jesus lived 33 years on the earth, I will share with you 33 more prophesies He fulfilled. This is not even a comprehensive list.
He would be born of a virgin.
(Isaiah 7:14; Matthew 1:20-23; Galatians 4:4; Genesis 3:15)
His name would be Immanuel. Immanuel in Hebrew means "God with us"
(Isaiah 7:14; Matthew 1:21-23)
He would be anointed of the Holy Spirit (Ruach HaKodesh).
(Isaiah 11:1-2; 42:1; Matthew 3:16)
He would preach and teach in the temple (Beit HaMikdash).
(Malachi 3:1; Luke 4:16; Matthew 26:55; John 7:28; 8:1-2)
He would speak in parables.
(Psalm 78:2-4; Matthew 13:34-35)
He would minister in Galilee.
(Isaiah 9:1-2; Matthew 4:12-16,23)
He would heal the sick, set the captives free, and preach deliverance. This is known as the basar (gospel) in Hebrew.
(Isaiah 61:1-2; Luke 4:16-21; Matthew 4:23; 9:34-35; Acts 2:22; 10:38)
His message would not be believed.
(Isaiah 53:1; John 12:37-38)
He would be hated.
(Psalm 69:4; 35:19; 109:2-3; 119:161; John 15:24-25)
His disciples would forsake Him.
(Zechariah 13:7; Matthew 26:31-35,56)
He would publicly enter Jerusalem (Yerushalayim) before the time of His crucifixion.
(Zechariah 9:9; Matthew 21:1-5)
He would ride into Jerusalem (Yerushalayim) on a donkey.
(Zechariah 9:9; Matthew 21:5)
He would be sold for 30 pieces of silver.
(Zechariah 11:12; Matthew 26:14-16)
He would be betrayed by a friend.
(Psalm 41:9; John 13:18-21)
Both Jew and Gentile would conspire against Him.
(Psalm 2:1-2; Acts 4:27-28; Matthew 26:3; 27:1-2)
He would be nailed to a tree.
(Deuteronomy 21:22-23; Psalm 22:16; John 19:18; 20:25)
He would suffer for others.
(Isaiah 53:6; Matthew 20:28)
He would be mocked.
(Psalm 22:7-8; Matthew 27:39-43)
He would be smitten.
(Micah 5:1; Isaiah 50:6; Lamentations 3:30; Matthew 26:67; 27:30)
He would be spit upon.
(Isaiah 50:6; Matthew 26:67, 27:30)
He would be forsaken by God.
(Psalm 22:1; Matthew 27:46)
He would be given gall and vinegar to eat and drink.
(Psalm 69:21; Matthew 27:34,48)
People would cast lots for his clothes.
(Psalm 22:18; Matthew 27:35)
His bones would not be broken.
(Psalm 34:20; John 19:33,36)
He would be pierced.
(Zechariah 12:10; John 19:34,37)
He would die for our sins.
(Isaiah 53:5; 1 Corinthians 15:3; 1 Peter 2:24)
He would be buried with the rich.
(Isaiah 53:9; Matthew 27:57-60)
His soul would not be left in hell.
(Psalm 16:10; 49:15; 56:13; Acts 2:27,31; 13:33-35)
He would rise from the dead.
(Psalm 16:10; Luke 24:6,31,34; Acts 2:27-31; 13:35)
He would rise the third day from the grave.
(Jonah 1:17; 1 Corinthians 15:4; Luke 24:45-46; Matthew 12:40)
He would ascend into Heaven.
(Psalm 68:18; Acts 1:9; Luke 24:50-51)
He would sit at the right hand of God.
(Psalm 110:1; Hebrews 1:2-3; Ephesians 1:20-21; 1 Peter 3:22)
He would usher in a New Covenant (Brit Hadashah).
(Jeremiah 31:31; Luke 22:20)
So what does all of this mean for you today? I have already shared a great deal. I will close out the week with a few quick nuggets for you.
1. God mapped out your life before you were born. Psalm 139:16 says, "Your eyes saw my unformed body; all the days of my life were ordained for me; written in your book before one of them came to be." God wrote your biography before you were born. Not an autobiography, because you did not write it. This was a biography written by God Himself before you ever lived one day. Your life, now, is actually a journey of attempting to become what He wrote.
2. Your life is not your own. Your name may not be Jesus, and your book may not be the Bible, but you are destined. There is a book in heaven with your name in it. You are destined like Jesus was destined. You are NOT on this planet to do whatever you want.
3. God sanctified you and set you apart before you were formed in your mother's womb. Jeremiah 1:5 says, "Before I formed you in the womb I knew you. Before you were born I set you apart; I appointed you and ordained you to be a prophet to the nations." God knew you before you were born, He set you apart for your purpose, and He had an ordination service in heaven to ordain you for your specific assignment before you ever took one breath. So you can never be a success, in God's eyes, until you become what He planned.
4. God chose you and blessed you before the world was made. Everything you need to become the man/woman you are destined to be is already stored up for you. This is what the Bible says in Ephesians 1:3-5 says "In Christ, God has given us every spiritual blessing in heaven. In Christ, he chose us before the world was made… And before the world was made, God decided to make us his own children through Jesus Christ. This was what God wanted, and it pleased him to do it."
4. God established your purpose and also gave you the grace to complete it before the world began. 2 Timothy 1:9 says, "For God saved us and called us with a holy calling, not according to our works, but according to His own purpose and grace which was granted us in Christ Jesus before the world began." You did not earn your calling. It had nothing to do with your performance. You were saved and called by grace. This was all for God's purpose. A purpose and grace He established in Christ Jesus before the world began.
5. Your life now is a journey of discovery.
— You cannot decide your purpose because God decided before the world began.
— You cannot make up your destiny because God predestined you before you were born.
— Walking with God and living the life of faith is about praying, discerning, listening, waiting, and then moving ONLY when God leads you to move. When He does, it then becomes about launching out, believing God, saying what He leads you to say, and having the courage to attempt the impossible, even at the risk of looking foolish. As we are still getting ready to maximize 2022, I want you to know that GREATER IS COMING for you because God already planned it! You are not a mistake!
Declaration of Faith:
Father, You planned for my arrival. All the days of my life were mapped out before I ever took one breath. I am not a mistake. Like Jesus, I am called and destined for a specific purpose. Jesus found Himself in the book. He discovered His purpose. I shall do the same. I shall FIND, FOLLOW and FINISH my purpose before I die. I will arrive at Your overall expected end for my life. I will accomplish all I was born to accomplish while I am in the land of the living. Every prophecy You made concerning me shall come to pass. I will become the man/woman You destined me to be. I will leave a mark in this world that will not easily be erased. I will do this by Your amazing grace. Living this way, I know, GREATER IS COMING FOR ME! I declare this by faith. In Jesus' name, Amen!
This is Today's Word! Apply it and Prosper.