This morning we continue our journey into this year, focusing on making "Intentional Progress."  I shared six steps to intentional progress with you, and I will continue to walk through them over the next few weeks.  As a reminder, here are the six steps.
Here are the steps again:
1. Pray/Discern
2. Plan/Prepare
3. Wait/Discern God's Timing
4. Execute/Measure Progress
5. Wait/Faith & Patience
6. Receive When Harvest Time Comes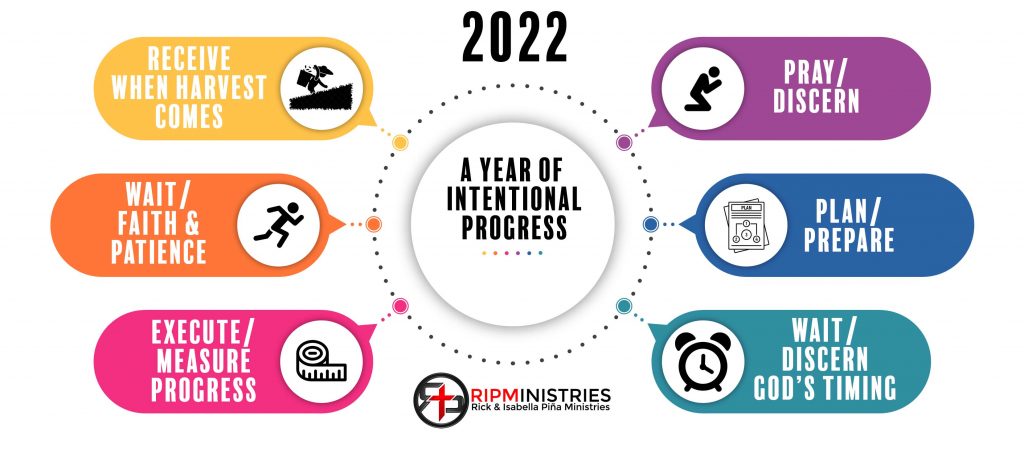 After studying our way through the Gospel according to St. John chapters 5, 6, 8, 12, 14, and 15. Yesterday we crossed over into John chapter 16 and we learned about the role of the Holy Spirit. We will flow in that same vein today.
Jesus lived with the disciples, but the Holy Spirit would come to live in them. Even with the Holy Spirit, however, once Jesus left it would be a trying time for them. After relying on Jesus for over three years, they would have to deal with the reality of His death and shift their reliance from Jesus to the Holy Spirit.
As the magnitude of what Jesus was saying began to 'sink in,' the disciples became sad. So Jesus said,
(John 19-26 NLT)
19 Jesus realized they wanted to ask him about it, so he said, "Are you asking yourselves what I meant? I said in a little while you won't see me, but a little while after that you will see me again.
20 I tell you the truth, you will weep and mourn over what is going to happen to me, but the world will rejoice. You will grieve, but your grief will suddenly turn to wonderful joy. 21 It will be like a woman suffering the pains of labor. When her child is born, her anguish gives way to joy because she has brought a new baby into the world.
22 So you have sorrow now, but I will see you again; then you will rejoice, and no one can rob you of that joy.
23 At that time you won't need to ask me for anything. I tell you the truth, you will ask the Father directly, and he will grant your request because you use my name.
24 You haven't done this before. Ask, using my name, and you will receive, and you will have abundant joy.
25 "I have spoken of these matters in figures of speech, but soon I will stop speaking figuratively and will tell you plainly all about the Father.
26 Then you will ask in my name. I'm not saying I will ask the Father on your behalf,
27 for the Father himself loves you dearly because you love me and believe that I came from God.
28 Yes, I came from the Father into the world, and now I will leave the world and return to the Father."
So what does this mean to you today? A few things.
1. Never devalue the role of the Holy Spirit in your life.
The disciples were completely reliant upon Jesus for personal guidance, overall direction, and supernatural protection. When things were going crazy, Jesus was their peace. When their power was limited, Jesus was their conduit to supernatural power. When they did not know what to do, Jesus had all the answers. Not only that, but Jesus took the time to teach, mentor, father, and prepare each of them for their individual life assignments. So it is understandable why they were sad and even afraid about the possibility of losing Jesus. But Jesus made it clear that our Heavenly Father would not leave them comfortless. He would send the Holy Spirit.
You did not get to walk with Jesus like the disciples did. You don't have the experience of having Jesus and then losing Him. But you can pick up the story where the disciples did, after the Day of Pentecost. They received the Holy Spirit and God's Spirit provided for the disciples, ON THE INSIDE, what Jesus had provided, FROM THE OUTSIDE.
— The Holy Spirit will do for you all that Jesus did for the disciples. You were not there with Jesus, but the Holy Spirit is here for you, NOW. The Holy Spirit will do for you what no man can do.
— Think about the Holy Spirit the way they thought about Jesus. He is the one with all the answers. He is the one with all the power.
— God Himself, in a very literal form, is LIVING on the inside of you (if you are Born-Again). Please don't ignore or devalue His presence.
— Rely on Him, lean on Him, call on Him, talk to Him, and trust in Him. On your own, you are limited, but through the Holy Spirit, there is nothing you can't do.
— You have access to God's supernatural, limitless, and overflowing power and wisdom. Please make the most of this access.
2. You get to use the name of Jesus.
When I was in the military, my rank and position gave me a certain level of authority. I get to exercise the authority given to me to perform the mission required of me. However, there were times when I was asked to do something that exceeded my authority. For example, I was routinely asked to task someone who outranked me. On those occasions, the person sending me out with the order gave me the authority to use his or her name.
I will use my last position as an example. My boss at the time outranked me and everyone in our organization. So when he sent me out to accomplish a task in his name, I was able to do what I could not do with my name and authority alone. In the same way, Jesus has given you the authority to use His name. In your humanity, you are limited. But when you operate in the divinity God has placed IN you, and when you use the name of Jesus, you get to operate in the authority behind the name. Demons flee at the name of Jesus. Angels bow at the name of Jesus. All heaven and earth are subject to that name and Jesus gave you the authority to use His name, to perform His will, for His glory!
3. You get to go directly to the Father.
In the Old Testament, the general population of Israel had to rely on the priests and prophets to serve as their interface with God. The Holy Spirit lived within the temple, above the Ark of the Covenant, and the only person authorized to interact with Him was the High Priest. Even then, the High Priest could only enter the presence of the Holy Spirit once a year.
— Fast forward to the time that Jesus walked the earth. During this time, Jesus was the only person filled with the Holy Spirit. The disciples walked with Jesus, and they relied on Him to serve as the interface with the Father.
— Fast forward to today. You are now filled with the Holy Spirit. You are the temple of God, and the Spirit of God lives in you. You don't have to rely on a priest or prophet to serve as an intermediary between you and God. You get to go directly to the Father, in the name of His Son Jesus, via the direct connection you have with Him through the Holy Spirit. Please don't waste your access.
— You have access to the Most-High God. Use that access every day and become the man/woman of God you are called to be. Not by earning it but by God's grace.
4. We get to deal with pain and challenge differently than the world does.
Jesus knew His disciples were sad. Instead of taking the sadness away, He just gave them a different perspective. He told them how to deal with it. He was teaching them how to look at challenges from God's point of view.
— In a conversation where Jesus was dealing with the sadness His disciples were facing, Jesus talked to them about JOY. You can have JOY, even when circumstances dictate that you are not happy. Happiness is tied to happenings. JOY is an inside job.
— Isabella and I had a good conversation last night about some of the challenges we have faced and overcome over the last 20+ years. This came up becuase lately, we have been ministering to people dealing with mental challenges. Believe me; you can love God and still struggle to have mental health and inner peace. As we talked about some of the things we have been through, which honestly most people don't know (becuase we don't glorify our challenges), we both acknowledged that there is no way we could have overcome them without God.
After returning from combat, we both faced challenges, mentally and in our souls, that could have destroyed us had we not been walking with God and living OPEN to the Holy Spirit. This is real stuff. This is real life. We all face real challenges, but the good news is that we have a real God who is there for us.
People look at Isabella and me, and they don't have any clue what we have been through. Maybe one day, the Holy Spirit will lead me to share or put some of this stuff in a book, but just know that we all go through challenges. None of us are exonerated. God never promised to take us out of the world or remove the challenges. What He promised was to be with us every step of the way. When we think we need less challenge, what God does is give us MORE GRACE. By His grace, we overcome because He already overcame FOR us!
That is enough for today.
Declaration of Faith:
Father, I thank You for taking the time to teach me Your Word. In Your Word, I am learning about Your grace, love, peace, power, and my purpose. And I don't take it for granted that I even get to come to You directly. I have been given the right to come to You in the name of Your Son. I don't have to go to a priest or prophet. I have a blood-bought covenant right to come directly to You, in the name of Your Son, and I declare by faith that I use that access daily. I also thank You for placing Your Spirit in me, to lead me in the way I should go. I lean upon the Holy Spirit. I learn from Him. He speaks to me while I am awake. He gives me dreams while I sleep. He puts thoughts in my mind as I walk throughout the day. He helps shape and develop me into the person I am called to be. I am thankful, Father that I am never hopeless because I am never helpless. You are IN every second of every day. Without You, I may have given up on life a long time ago. But with You, my future is bright, and my progress will have no limits! GREATER IS COMING FOR ME! I declare this by faith. In Jesus' name. Amen.
This is Today's Word! Apply it and Prosper.