This morning we continue our journey into this year, focusing on making "Intentional Progress."  I shared six steps to intentional progress with you, and I will continue to walk through them over the next few months.  Here are the six steps.
Here are the steps again:
1. Pray/Discern
2. Plan/Prepare
3. Wait/Discern God's Timing
4. Execute/Measure Progress
5. Wait/Faith & Patience
6. Receive When Harvest Time Comes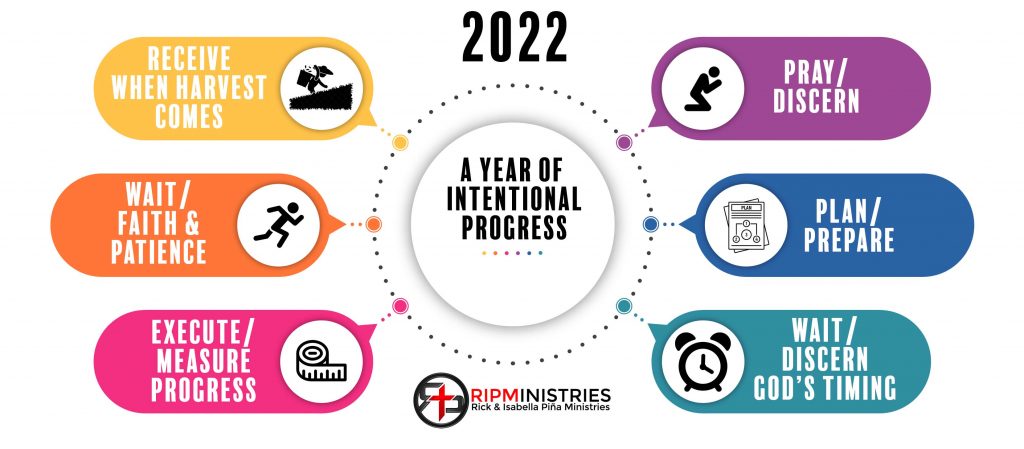 In this series, we have sought to glean life lessons from Jesus. We looked at John 5, 6, 8, 12, and 14-17. We then crossed over into chapter 18. I will pick up the story of Jesus where we left off.
Yesterday we covered John 18:38-40. We will discuss the same passage again today.
So what does this mean for you today? I will add to what we learned yesterday. Here are a few things.
1. It will all work out for your good in the end (Romans 8:28).
After Jesus was arrested, He was taken from mock-trial to mock-trial in the middle of the night, without any witnesses testifying against Him. No actual charges were brought against Jesus, but somehow, the crooked justice system processed Him from stage to stage. Jesus ultimately wound up in front of Pontius Pilate. He was there because the Israelites were under the captivity of the Romans. The Jews did not have the power to fully prosecute Jesus. They hoped to get Pilate, the Roman governor, to approve Jesus' execution. However, Pilate could find no fault in Jesus. He wanted to set Jesus free. But the Jews were aggressive and persistent. They did all they could to have Jesus killed.
Pilate had a dilemma. He knew Jesus was innocent, but he also wanted to maintain his relationship with the Jewish elite to have peace in his province. So Pilate offered one last-ditch attempt to save Jesus. Pilate gave "the people" an opportunity to commute one prisoner's death sentence. To hedge his bets, Pilate juxtaposed Jesus with Barabbas, a known criminal. To his dismay, the people picked Barabbas. With that crazy decision, the only innocent man to ever live was sentenced to death, and a man who was supposed to die was set free!
I will bring this story to today. We live in a fallen world. The devil is busy. He will do all he can to 'rig the system' against you. The good news is that the Father only ALLOWED this to happen to Jesus (and Jesus ACCEPTED it) because it was part of His purpose. If it were not part of His purpose, there is no way the crooked system of Jesus' day could have done to Him what it did.
— God can PREVENT, and He can PERMIT. Whatever He PERMITS, He has purpose wrapped up in.
— If you are facing it, whatever the "it" is, then either a) you are reaping what you have sown (in which case this is not God's fault), or b) you have done nothing wrong, and you are being attacked. In either case, God can make all things work together for your good!
— If you have done nothing wrong (like Jesus), and it is still happening to you, then rest assured that when it is all said and done, God will turn it around. What the devil thinks He is doing TO you is actually doing FOR you!
2. Sometimes, difficult situations actually help usher you into your purpose.
I am not saying that God does bad things to good people, and I am not saying that God needs to punish you to bless you. But I am saying that I can recall many times when I have faced difficult situations, or when I attempted to do something I thought was good, only to have it fail over and over again. It can be tiring and frustrating. But in the end, the problematic situations and my repeated failures all eventually helped me arrive at God's best for my life. So while God does not DO bad things to good people to bless them, He can surely use bad situations to help usher you into His best.
You may be in a bad situation this morning because of satan or simply because of your own error. Either way, God can turn that situation around and make it work out for your good.
3. Looking at the bigger picture helps you keep the proper perspective.
I will use Jesus and Joseph as examples.
a) Jesus.
(Hebrews 12:2 KJV)
Looking unto Jesus the author and finisher of our faith; who for the joy that was set before him endured the cross, despising the shame, and is set down at the right hand of the throne of God.
(Hebrews 12:2 ERV)
We must never stop looking to Jesus. He is the leader of our faith, and he is the one who makes our faith complete. He suffered death on a cross. But he accepted the shame of the cross as if it were nothing because of the joy he could see waiting for him. And now he is sitting at the right side of God's throne.
Jesus is seated at the right hand of the Father.
Jesus did not sit down because He was tired. Jesus sat down because He was done!
Jesus completed His mission.
His mission was NOT easy.
He had to endure lots of pain.
How did He do it?
He did it by getting JOY from SEEING what was WAITING ON HIM!
He did it by choosing NOT to be moved what His present circumstances.
He did it by choosing the UNSEEN over the SEEN!
Jesus' perspective enabled Him to endure the pain that was connected to His purpose.
Your perspective (if you take on God's perspective) will do the same for you!
b) Joseph.
God did not make Joseph's brothers turn on him, but they did. His own brothers tried to kill him and then sold him as a slave. As the years went by, and as bad thing after bad thing happened to Joseph, God revealed to Joseph that He was working His purpose through the painful situations. This does not mean that God made bad things happen. The brothers clearly did it with bad intentions. But Joseph later said one of the most powerful statements in the Bible to his brothers. He said, "You meant it for evil, but God turned it around for my good!" (Gen 50:20).
— This does not mean that God makes bad things happen to you to teach you a lesson. What it means is that God takes whatever is happening to you, good or bad, and makes it turn out for your good.
— Please keep the proper perspective. Joseph did. He could have got bitter, but instead, he got better.
— If you keep the proper perspective, I am can confidently tell you that Greater is coming for you!
4. God prepared for every attack against you.
— God knows everything. He knows your thoughts before you think them, your words before you speak them, and your actions before you take them. He knows the end from the beginning. This means that He knew all the actions Joseph would take and all the actions others would take, both for and against him.
— Not only is God aware of everything you are going to do, but He is also aware of everything others will do FOR YOU or in OPPOSITION TO YOU.
— God's foreknowledge means He is never caught off guard. He already prepared for every attack against you, even if you were unprepared for it. Rest in that! God's got you!
— God is not moved by what people do to you. He is already prepared.
— When something happens that you were not ready for, don't freak out. Remind yourself that God was ready, and He lives in you. If He was ready, then He will make you ready!
— Think of your life as a chessboard. Every time the enemy makes a move on you, trying to derail you from your destiny, God (who already knew what the enemy would do) is more than prepared for every attack. God can take the moves the enemy made and flip them around for your good! This should bring you peace! Understanding this point will help you remain calm and patient, knowing that God reserves the last move on the board for Himself!
That is enough for today. I am not done with Barabbas. I still need to talk about him. So we will circle back to this passage again tomorrow.
Declaration of Faith:
Father, I thank You for reminding me of the price Jesus paid for me. Jesus was bruised, beaten, tortured, and crucified FOR ME. Jesus willingly took the pain associated with the cross for the joy that was set before Him. I am part of that joy. While Jesus was being beaten, He thought about me. He thought about the great cloud of witnesses that would be saved because of His blood. I am one of those! I have been saved because of Jesus' sacrifice. Jesus died for me. Jesus took my place. Jesus paid my debt. Jesus saved me from sin, satan, hell, and the grave. Father, I am eternally thankful to You for Jesus. I now live my life in honor of Jesus' death.
The testimony of Jesus also reminds me that everything will work together for my good. While satan is making moves on the chessboard against me, I sometimes get caught off guard. But I find peace in knowing that You never will. You know his moves before he makes them, and You have already prepared your moves. You are now preparing me for what You prepared. This is how I know GREATER IS COMING FOR ME! I declare this by faith. In Jesus' name. Amen.
This is Today's Word! Apply it and Prosper.