This morning we continue our journey into this year, focusing on making "Intentional Progress."  I shared six steps to intentional progress with you, and I will continue to walk through them over the next few months.  Here are the six steps.
Here are the steps again:
1. Pray/Discern
2. Plan/Prepare
3. Wait/Discern God's Timing
4. Execute/Measure Progress
5. Wait/Faith & Patience
6. Receive When Harvest Time Comes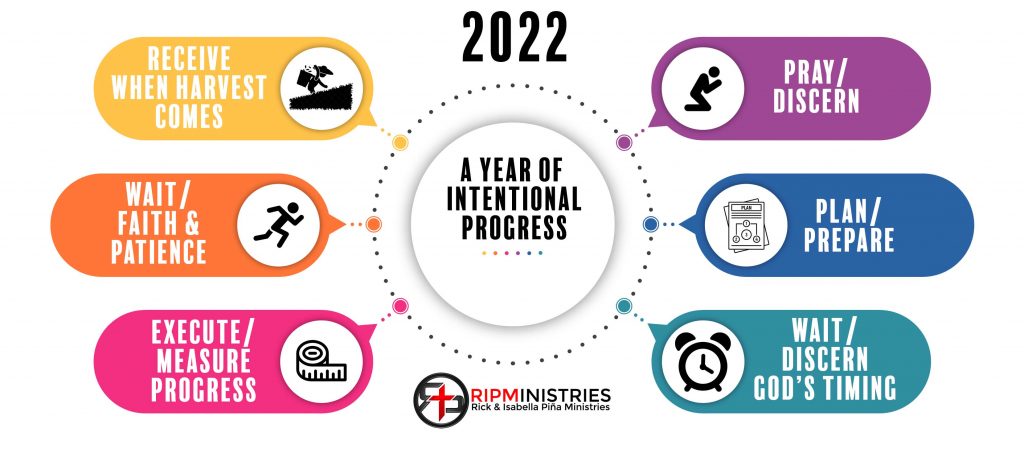 We have been in this series for a few months and we are now just a couple of weeks away from Resurrection Sunday. So, as we are preparing for Good Friday, let's discuss the importance of what Jesus did on the cross. I discussed this yesterday and we will continue to flow in that vein today.
So what does this mean for you today? A few things:
1. The Law made you wrong, and it is obsolete.
Look at these five verses. Read them carefully and prayerfully.
(1 Cor 15:56)
For sin is the sting that results in death, and the law gives sin its power.
(James 2:10)
For the person who keeps all of the laws except one is as guilty as a person who has broken all of God's laws.
(Rom 3:20)
For no one can ever be made right with God by doing what the law commands. The law simply shows us how sinful we are.
(Mat 5:17)
"Do not think that I have come to abolish the Law or the Prophets; I have not come to abolish them but to fulfill them.
(Heb 8:13)
By calling this covenant "new," he has made the first one obsolete; and what is obsolete and outdated will soon disappear.
a) Without the Law, you would have no rules to break. That is why the Bible says, "the law gives sin its power."
b) Rules could never make you right. All rules can do is show you how wrong you are. The Bible clearly states, "The law simply shows us how sinful we are."
c) Don't fool yourself into thinking you are "mostly" good. James made it clear that if you keep 99% of the Law and then break just one of the rules, you are as guilty as the person who broke them all.
d) The rules came from God, and they are holy. So holy, as a matter of fact, that no mere human could ever keep them. Jesus was the only perfect human, and He did, for us, what we could never do.
e) Jesus did not come to destroy The Law. He came to fulfill it. He did. Once He did, He ushered us into the New Covenant, making the Old Covenant, as the writer of Hebrews said, is obsolete and outdated.
2. Breaking the Law led to the fear of death.
The Bible says, "Because God's children are human beings—made of flesh and blood—the Son also became flesh and blood. For only as a human being could he die, and only by dying could he break the power of the devil, who had the power of death. Only in this way could he set free all who have lived their lives as slaves to the fear of dying" (Heb 2:14.15).
a) Jesus came as a human, He lived as a human, and He died as a human. He did this to set humanity from the power of sin and death.
b) Before Jesus' death, burial and resurrection, satan had (as our text explains) the "power of death."
c) People all over the planet, Christians and non-believers alike, live their lives under the bondage of the fear of death.
d) People say, "I'm afraid of flying." But they are not actually afraid of flying; they are afraid of dying. The fear of death has kept countless people from living out God's best for their lives.
e) Jesus conquered death to deliver us from the fear and bondage of it.
f) You have no need to fear death. If you are Born-Again, you are already dead in Christ, and you have done all the dying you are going to do.
g) Paul was convinced that he had eternal life and that death had no power over him, that he wrote, "O death, where is your sting? O grave, where is your victory?" (1 Cor 15:55). Jesus took the sting out of death. If you are Born-Again, you have nothing to fear!
3. Jesus freed us from the bondage of The Law.
The Bible says, "Why, then, was the Law given? It was given alongside the promise to show people their sins. But the Law was designed to last only until the coming of the child who was promised. God gave his Law through angels to Moses, who was the mediator between God and the people. Now a mediator is helpful if more than one party must reach an agreement. But God, who is one, did not use a mediator when he gave his promise to Abraham. Is there a conflict, then, between God's Law and God's promises? Absolutely not! If the Law could give us new life, we could be made right with God by obeying it. But the Scriptures declare that we are all prisoners of sin, so we receive God's promise of freedom only by believing in Jesus Christ" (Gal 3:19-22).
a) The purpose of the Law was to show you that you cannot rely on your own ability, that your humanity is not good enough, and to prove to you that you NEED a Savior. That Savior came. His name is Jesus. He saved you from both sin and death.
b) The Law served its purpose. By the time Jesus arrived on the scene, the people of God knew they needed a Savior. They were waiting on the Messiah. That Messiah came, and He fulfilled the Law for you (Mat 5:17,18).
c) Now God sees you through Jesus. Once you are Born-Again, you are IN CHRIST, and as far as God is concerned, you are credited with everything Jesus did.
d) When you internalize all Jesus did for you on the cross, you can't help but live differently. Sin is no longer your issue. Death no longer has any power over you. Jesus' righteousness is attributed to you. When you open your heart to all of this, you literally start living "As Jesus is, in this world!" (1 John 4:17).
e) Under grace, you get to live the life God planned for you, from the foundations of the world, without being held back by the fact that you are not perfect. You know you are not perfect, and you don't allow satan to cause you to live in condemnation because of your imperfections. You get to live your life as a forgiven child of God. You walk free from the power of sin and free from the bondage of the fear of death. You simply enter every day focused on doing whatever the Holy Spirit leads you to do that day. This is how Jesus lived, and this is how we are supposed to live. This is how we get to experience heaven on earth. This is how we live "As Jesus is, in this world!"
Declaration of Faith:
Father, I thank You for Your overwhelming goodness, kindness, mercy, and grace towards me. You gave a Law to Moses, written by Your own hands, on tablets of stone. That Law was perfect and holy. Humans throughout the ages have attempted to fully comply with Your holy Law. However, Father, as You know, we are human and flawed. You are divine and flawless. No human could ever fully comply with Your Law. Every human, except for one, has broken Your Law. Because we broke Your Law, we are guilty. We deserve punishment. The reality of the impending punishment has led many to live their lives under the bondage of the fear of death. However, the ONE PERFECT HUMAN changed everything for everyone! Jesus never sinned. Jesus did not deserve death. But Jesus willingly accepted my punishment in my place. Jesus paid my debt, and He paid it in full. I am in Christ, and Christ is in me. I have been Born-Again. I am dead to self, sin, and satan. I am free to FIND, FOLLOW and FINISH my purpose in life, and I declare that I will. I enter this day and every day ready to do whatever You lead me to do by Your Spirit. I am free from condemnation, and GREATER IS COMING FOR ME! I declare this by faith. In Jesus' name. Amen.
This is Today's Word! Apply it and Prosper.