This morning we continue our journey into this year, focusing on making "Intentional Progress."  I shared six steps to intentional progress with you, and I will continue to walk through them over the next few months.  Here are the six steps.
Here are the steps again:
1. Pray/Discern
2. Plan/Prepare
3. Wait/Discern God's Timing
4. Execute/Measure Progress
5. Wait/Faith & Patience
6. Receive When Harvest Time Comes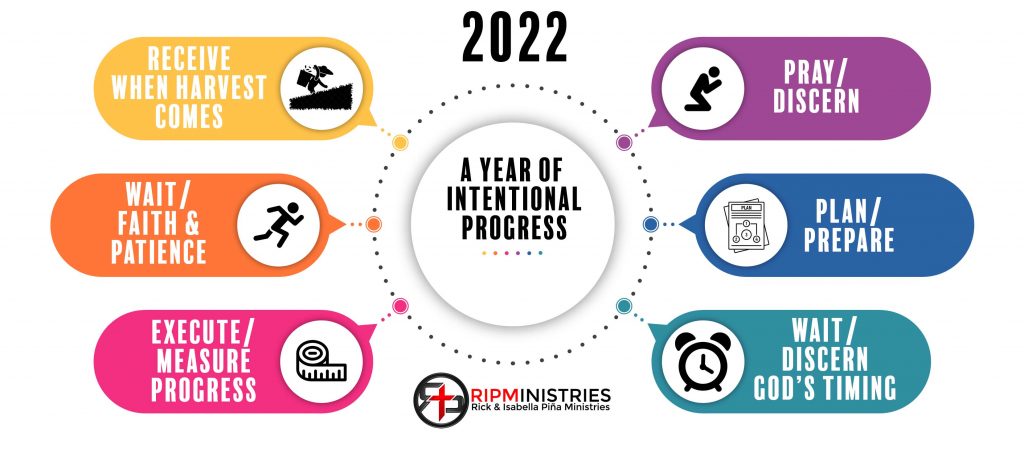 In this series, we have sought to glean life lessons from Jesus. We looked at John 5, 6, 8, 12, and 14-18. We have been in chapter 19 for a while.
(John 19:28,29 KJV)
After this, Jesus knowing that all things were accomplished, that the scripture might be fulfilled saith, I thirst. Now there was set a vessel full of vinegar: and they filled a sponge with vinegar, and put it upon hyssop, and put it to His mouth.
So what does this mean for you today? In the last message, I dealt with the words, "It is finished." Today I will back up and deal with the words, "I thirst," and then talk about the significance of Jesus going to the cross.
1. The Old Testament in the New and the New Testament in Old.
It has been said (and I agree) that the Old Testament is the New Testament concealed, and the New Testament is the Old Testament revealed. The Old Testament is riddled with Messianic prophecies, and Jesus had to fulfill them all.
As Jesus was on the cross, He was fulfilling multiple prophecies. In our text, so that Psalms 69:21 might be fulfilled, He said, "I Thirst." This is a reminder that Jesus lived a purpose-driven life right down to the very end.
In Jesus' life and in ours, nothing really 'just happens.' God made plans for us before the world began, and the plans of God are continually unfolding in our lives. After Jesus said, "I Thirst," a Roman Soldier took a sponge that was on the end of a hyssop stalk, filled it with vinegar, and gave it to Jesus to drink. This seems like adding insult to injury. Jesus was already on the cross, already in excruciating pain, and already dying a slow death, but He welcomed the vinegar. Why? Because there was purpose wrapped up in it. Even the manner in which the vinegar was administered was connected to purpose. Hyssop was used in the Passover ceremony (Ex 12:22). Jesus would become, on this day, the last and eternal Passover Lamb.
It was prophesied that Jesus would be born of a virgin (Isaiah 7:14), in the tribe of Judah (Genesis 49:8-10), as a descendent of David (2 Samuel 7:4-5,12-13; 1 Chronicles 17:11-14; Psalm 132:11). Further, it was prophesied that Jesus would be born in Bethlehem (Micah 5:2), then move to Egypt (Hosea 11:1), and grow up in Nazareth (Judges 13:5-7). The list could go on. Time after time, event after event, Jesus was fulfilling His destiny. So it's no surprise that when we find Him in our text, stretched out on the cross, about to give His life for humanity, Jesus is still at work, fulfilling what He was placed on this planet to do. Even at the end of His life, Jesus was still focused on fulfilling His purpose (what was already prophesied about Him).
2. God is always working.
— It may seem like things are going haywire in your life. Your book may not be called the Old Testament, but you too have prophecies to fulfill.
— You, too, have a predetermined and predestined purpose.
— When you feel like you have been tossed to and fro, from pillar to post, from place to place, remember all that Jesus went through to fulfill His destiny. You're just going down the same zigzag road that Jesus did.
— Much of what Jesus did made no sense to His disciples while He was alive, but after He was gone, they looked back and were able to see the purpose that was wrapped up in Jesus' life. Sometimes our lives feel the same way. Life is better understood when viewed in reverse. For now, what we must do is Trust God!
— Sometimes, we have to drink the bitter vinegar, but we must learn to thank God for the bitter and the sweet! Can you trust God, even when you don't know the purpose behind what you are facing?
— If you can learn to trust God, even when you don't understand, it will be easier for you to maintain your heart at peace and your ears tuned to the divine impulses of the Holy Spirit. Many times believers can't hear God because they have lost their peace, and their minds are too busy complaining to hear what the Holy Spirit is saying.
— When you trust God instead of constantly questioning Him, you are better position to be led by the Holy Spirit and experience His best.
3. Jesus took us from covering to cleansing.
(Ex 30:10 NLT)" Once a year Aaron must purify the altar by placing on its horns the blood from the offering made for the atonement of sin. This will be a regular, annual event from generation to generation, for this is the LORD's supremely holy altar."
Exodus 30 opens with God detailing to Moses what the altar of incense was supposed to look like. The Lord went into great detail about the dimensions, the type of wood, the placement, etc. This would be the first thing you encountered when entering the Tabernacle. Aaron was to burn fragrant incense on the altar every morning and then again in the evening. This process was a ritual of worship, but the true purpose of an altar is always death.
Our text outlines the death connected to this altar, the death of the animal killed for the 'Atonement' of sin. This annual "Day of Atonement" (Yom Kippur) was the day set apart every year where the High Priest would offer a sacrifice for the sins of the people.
The word atonement means 'to cover.' It is further explained in Leviticus 23:26-32. Suffice to say that the blood of the animal was offered as a 'covering' for sin. The blood of the animal could never really eradicate the sin problem created by Adam, but it would merely serve as a temporary fix until the ultimate sacrifice would be offered – Jesus Himself.
The Hebrew writer explained it this way: "Christ went into the Most Holy Place. But it was not the man-made one, which is only a copy of the real one. He went into heaven, and he is there now before God to help us.
The high priest enters the Most Holy Place once every year. He takes with him blood to offer. But he does not offer his own blood like Christ did. Christ went into heaven, but not to offer himself many times like the high priest offers blood again and again. If Christ had offered himself many times, he would have needed to suffer many times since the time the world was made. But he came to offer himself only once. And that once is enough for all time. He came at a time when the world is nearing an end. He came to take away all sin by offering himself as a sacrifice.
Everyone must die once. Then they are judged. So Christ was offered as a sacrifice one time to take away the sins of many people. And he will come a second time, but not to offer himself for sin. He will come the second time to bring salvation to those who are waiting for him." (Heb 9:24-28 ERV).
— Adam introduced two problems with his disobedience: sin and death (satan's dynamic duo).
— The blood of the PASSOVER lamb (sacrifice) was a symbol of God's deliverance from death (I did not explain this sacrifice today).
— The blood of the Atonement lamb (sacrifice) was a symbol of God's deliverance from sins. However, the blood of the Atonement sacrifice only served as a 'covering' for sins.
— The blood of Jesus would serve to 'cleanse' us from sin and deliver us from death, once and for all.
— Jesus was both the PASSOVER and Atonement sacrifices.
— The sacrifice of the Lamb of God (Jesus) ended the need for any further animal sacrifices.
— Jesus delivered us from both sin and death in one fell swoop.
— Jesus redeemed us from everything that Adam got us into.
— In Jesus, we graduate from temporary to permanent; from ritual to relationship; from depiction to definite; from covering to cleansing!
— The greatest peace we can experience is the peace of knowing that we are not covered but rather cleansed. What can wash away my sin, nothing but the blood of Jesus! What can make me whole again, nothing but the blood of Jesus!
— Jesus cleansed us from sin and took the sting out of death. That's why Jesus went to the cross. He did it for you. He did it to get you OUT OF the mess you were born INTO because of ADAM.
— No more animals have to die. No more temporary sacrifices have to be offered. Jesus was the ultimate sacrifice. Your job now is to receive, by faith, what God already provided for you, in Jesus, by grace.
Declaration of Faith:
Father, You know the end from the beginning. You made plans for my life before I was ever formed in my mother's womb. I know Your hand is on my life. So whether the glass set before me is full of bitter vinegar or sweet water, I will never cease to give You praise! I know all things will work out for my good.
I am determined to maximize my purpose and potential in life by Your grace. I will arrive at Your overall destination before I die. I will get OUT of me all that You have placed IN me.
I also thank You, Father, for delivering me from ritual to relationship. I do not base my life on a depiction of truth, but on the definite truth itself; the truth that Your Son Jesus died, that I may live. My sins are not covered. My sin (all of it) has been cleansed by the Blood of Jesus! I enter into this day with a clear conscience and a rested spirit. Sin has no power over me, I am dead in Christ, and I have done all the dying I will do. So I am internally at rest. My rest comes from knowing I am saved from sin and death. I rest in Your plans. Therefore, GREATER IS COMING FOR ME! I declare this by faith. In Jesus' name, Amen!
This is Today's Word! Apply it and Prosper.